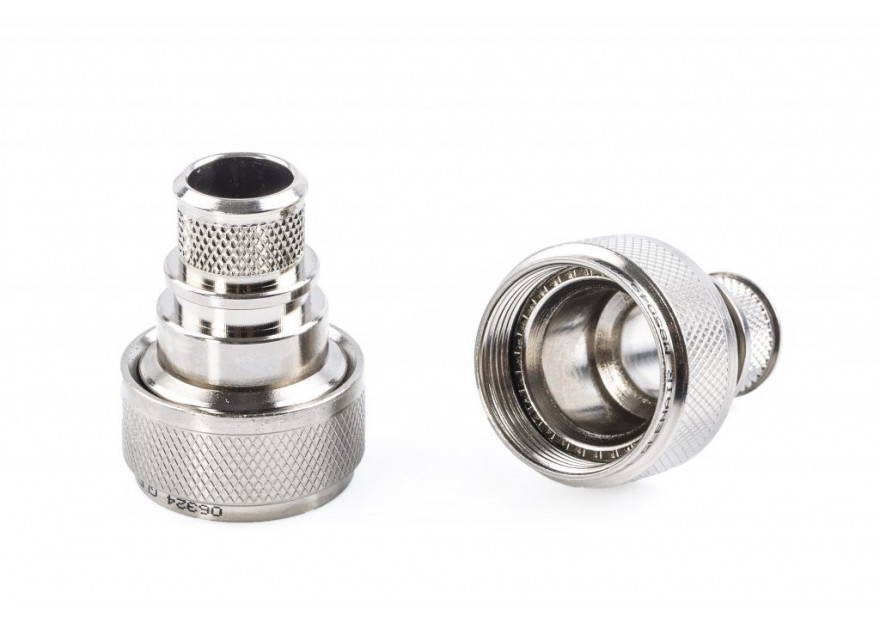 M85049 Sunbank backshells
Air Cost Control offers a wide range of SUNBANK 's product. M85049 Sunbank Backshells protect the electrical connector the cable link. From external physical stress (strain, shock, vibration) as electromagnetic interference that can occur when lightning strikes an aircraft.
Two self-locking technologies exist:
A detented system and the SUNBANK Self-seating mechanism. The second one exceeds the vibration requirements. A free rotatable coupling is also available.
1. Banding backshell
The banding backshell is an efficient solution. For terminating overall and individual cable shielding. Where future maintenance or reparability are required. These backshells utilize a metallic cable tie, named band, for full 360° shield/screen termination with low DC resistance available.
These backshells are available in versions. For use with shrink boots or molded part.
M85049/82
M85049/85
M85049/88
M85049/90
AS50151 crimp MIL-DTL-26482 Series 2 MIL-DTL-83723 Series 3 EN2997 & EN3646
MIL-DTL-27599 MIL-DTL-38999 Series I & II
MIL-DTL-38999 Series III & IV EN3645



2. Cable clamp strain relief
Strain relief clips are a cost-effective way of holding up your cables and connectors and protecting them from strain.
For example, from any movement against the cable's housing. This solution also provides good strain. Relief at the termination area. It is a cost-effective cable holding. Option when environmental protection is not a concern. Moreover this is weight saving solution.
M85049/38
M85049/39
M85049/51
MIL-DTL-38999 Series III & IV EN3645
AS50151 solder MIL-DTL-26482 Series 2 MIL-DTL-83723 Series 3 EN2997 & EN3646

3. EMI & environmental backshell
Both individual and overall shieldings can be terminated in this type. It is an ideal choice for heavy duty cabling solutions in harsh environment. These backshells ensure connector reliability and performance by adding extra protection from external hazards.
Environmental backshells use a glands to seal both entry points, to prevent the ingress of dust, dirt, moisture, and liquids. Additional shield termination hardware provides EMI/RFI protection. these backshells are available in 3 configurations : straight, 45°, or 90°.

4. EMI/RFI backshell
M85049 Sunbank backshells are designed for mechanical applications with straight, 45° and 90°, split shell configurations to resolve design difficulties and find the right solution. No tools are necessary to do the shielding termination. Various termination are available as one ring, two rings or three rings. These solutions can be used on wide range of application. which use a shield braid. Individual pigtail braid. Or individual braiding.

5. Grommet nut
Backshell provides protection and compression of the connector grommet. Moreover this is an efficient solution. For holding the contacts. And in place when terminated with wire bundles.
 Grommet nuts are typically used inside box applications where there is no EMI/RFI, environmental or strain-relief constraints. Some OEMs require that all connectors be equipped with a backshell that's why the simple Grommet nut has broad application in the interconnect industry.
M85049/14
M85049/31
AS50151 crimp MIL-DTL-26482 Series 2 MIL-DTL-83723 Series 3 EN2997 & EN3646

6. Potting & shrink boot adapter
This backshell is used to terminate with heat shrink boots which provides environmental protection and strain relief to cable termination. A slot is machined into each backshell in order. To attach a heat shrinkable boot. The dimension is optimized to integrate various standard boots.
M85049/60
M85049/62
AS50151 crimp MIL-DTL-26482 Series 2 MIL-DTL-83723 Series 3 EN2997 & EN3646
MIL-DTL-27599 MIL-DTL-38999 Series I & II
Multi configurations: straight, 45°, 90°
Plating: nickel, cadmium, zinc nickel, black anodized, passivate (for stainless steel only)